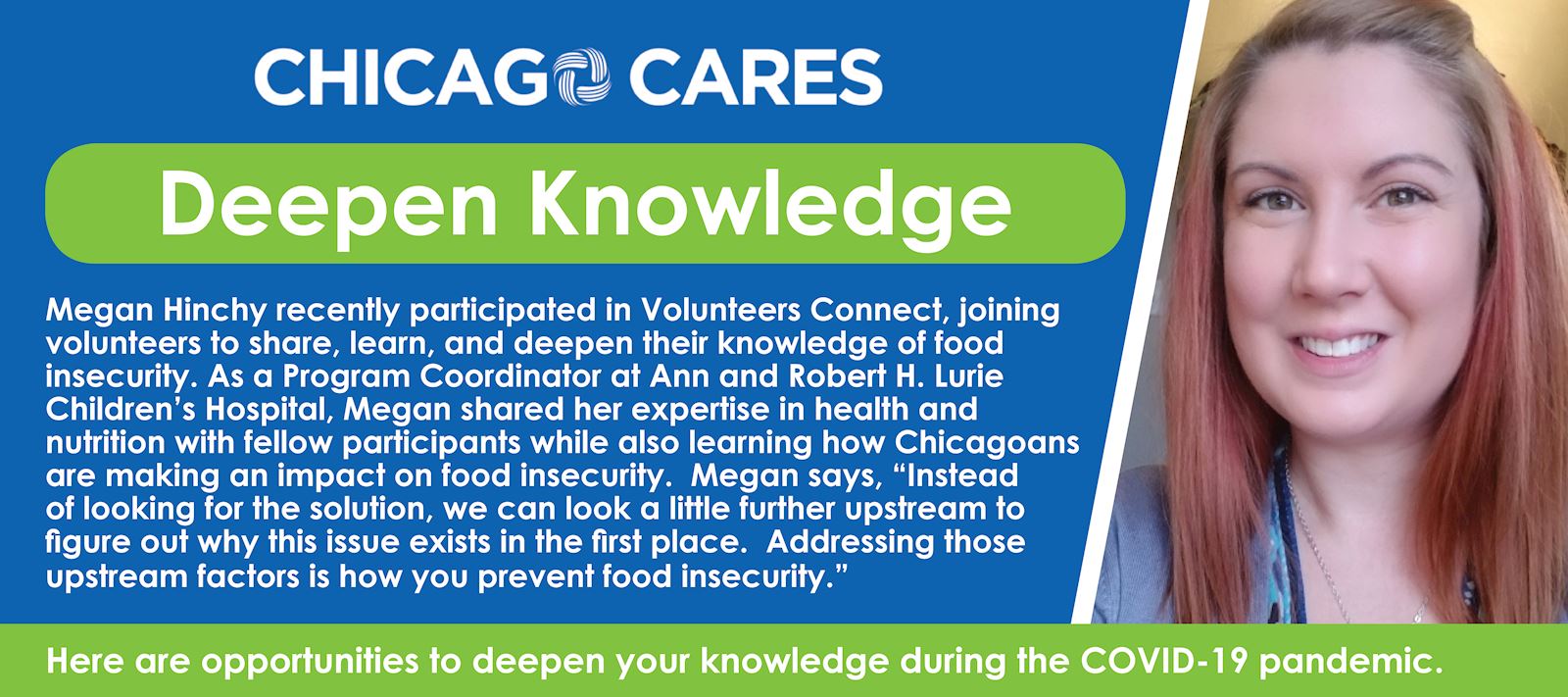 Participate in Volunteers Connect. Registration is live for the next installment of Volunteers Connect, Chicago Cares' new virtual program on job insecurity. Through connection, education, and action, let's use this time to educate ourselves on the issues we face and to ask ourselves how we will be better advocates when this is all over. Click here to find the session that works with your schedule!

Jumpstart your learning. This crisis has revealed the significant fault lines in our policies and how much more we need to be doing to support our neighbors. Take a moment to learn about structural issues that will persist beyond the current crisis.
Food Insecurity: Review Feeding America's interactive map series and data sets to learn how food insecurity persists throughout the state of Illinois.
Racial Inequity: Learn how Chicago's history of racial and economic segregation has contributed to injustices like lower life expectancies for black Chicagoans.

Follow local efforts. Chicago Cares follows the leadership of south and west side organizations that hold comprehensive or developing plans for their neighborhood. Stay up-to-date with what your neighbors are doing to support their respective communities.
I Grow Chicago: Gwen Johnson, known as "Ms. Gwen" around her tight-knit Englewood community, has never failed to lend a hand, a hug or a meal to those in need. Learn how her community is rallying around her as she battles COVID-19.
UCAN Street outreach workers are well positioned to build awareness about social distancing best practices in communities that may have little faith in public officials. Learn how UCAN's outreach workers are doing just that in North Lawndale.
Kids Off The Block: Organization founder Diane Latiker, her husband, and volunteers have been driving around distributing food, gloves, masks, sanitizer, and information since March 31. Learn how Kids Off The Block is making an impact on our city' south and west sides.

Build awareness for the Census. Did you know that nearly $1,400 in federal resources gets allocated to your community for every Census completed? Do your part while you're at home: complete the Census and join Chicago Cares in making sure your neighbors are counted, too.
Resources: Take a look at why completing the 2020 Census is so important for Chicago's funding and political representation.
Outreach: Learn how the COVID-19 pandemic is negatively impacting citywide efforts at increasing participation in underrepresented communities.
2020 Census: Complete the Census online and share it widely with your networks!

Looking for more opportunities? Click to find opportunities to build connections and champion causes. Follow Chicago Cares on social media (Twitter, Facebook, Instagram, and LinkedIn) to stay up-to-date on ways to stay socially connected with us.